Carl Gerhardt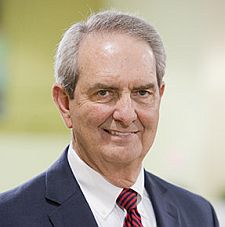 Carl Gerhardt's first 18 year career experience was in the agri-business industry. After graduating from the University of Missouri he first worked for Ralston Purina in sales, marketing and product management. He then joined Alfa Laval, Inc. to lead the marketing and sales for the DeLaval equipment division and rose to Senior V.P. and General Manager of the U.S. company which manufactured and sold dairy farm equipment and supplies.
The second stage of his career began in 1985 when he purchased a printing franchise to start his own business. This career now spans nearly 30 years in the trenches of the graphic arts industry, as an owner of an Allegra Marketing/Print franchise and nearly 10 years as a corporate franchise executive. He built his center in Colorado Springs from a start up to $2.5 mil. and sold it to his manager/partner in 2003. In 2004, he brought those valuable insights and practical knowledge to the parent company Alliance Franchise Brands as President and Chief Operating Officer. www.alliancefranchisebrands.com.
Over the years, he has consulted with hundreds of small business owners, appreciating the unique challenges they face and offering innovative and realistic solutions to help them achieve their goals. Gerhardt led the company and its franchise members into an aggressive acquisition program resulting in growth in a consolidating market. He was named CEO in 2007 and transitioned to Chairman in 2011.
Gerhardt has received many industry awards including trade association NAPL/NAQP's Honorary Lifetime Member in 2003, Industry Award of Distinction in 2012 and was inducted into NAPL's prestigious Soderstrom Society in recognition of his contribution to the industry. In 2012 he was inducted into the Printing Industry Hall of Fame sponsored by Rochester Institute of Technology and Printing Impressions magazine. He serves on the board of EDSF a scholarship foundation for students entering the graphic arts industry.
Carl and his wife Judy recently relocated to Reno, Nevada. He has retired from his role as Chairman of Alliance Franchise Brands. He is currently volunteering as a SCORE mentor consulting with small business owners and start up entrepreneurs. He has also joined FranNet as a consultant. FranNet is a company that matches people wanting to own their own business with franchises that match their interests and goals.