by Jennifer Matt
Now available in English and Chinese
Make a donation to EDSF and download a PDF copy of Web2Print now!
Complete the form below and click "Donate and Download". You will be able to download either an English or Chinese version of the book.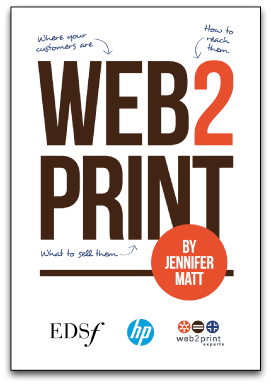 Web2Print is about elevating the print industry's conversation of web2print: the online connector between printers and their customers. Step one is to agree upon terms so we share a common language and understanding, step two is to focus less on technology and features and more on helping printers build achievable and profitable online businesses.
The author, Jennifer Matt, is one of the industry's leading experts in web2print strategy and large scale implementations and integrations. She also serves on the Board of Directors for EDSF, and is donating all proceeds from this book to the EDSF
scholarship program.
137 page Adobe PDF formatted for iPad and print.