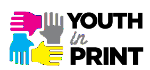 Donate to the Youth in Print Scholarship
Every contribution, whatever the size, is deeply appreciated.
Your donation is tax deductible.
100% goes to the Youth in Print scholarship fund.
All donors will be recognized by Printing Impressions after the scholarships have been awarded in July.
All donors will receive a certificate of recognition for supporting the Youth in Print fund.